Glorious Italianate on Boerum Hill Corner With Oriel and Deluxe Makeover Asks $6.195 Million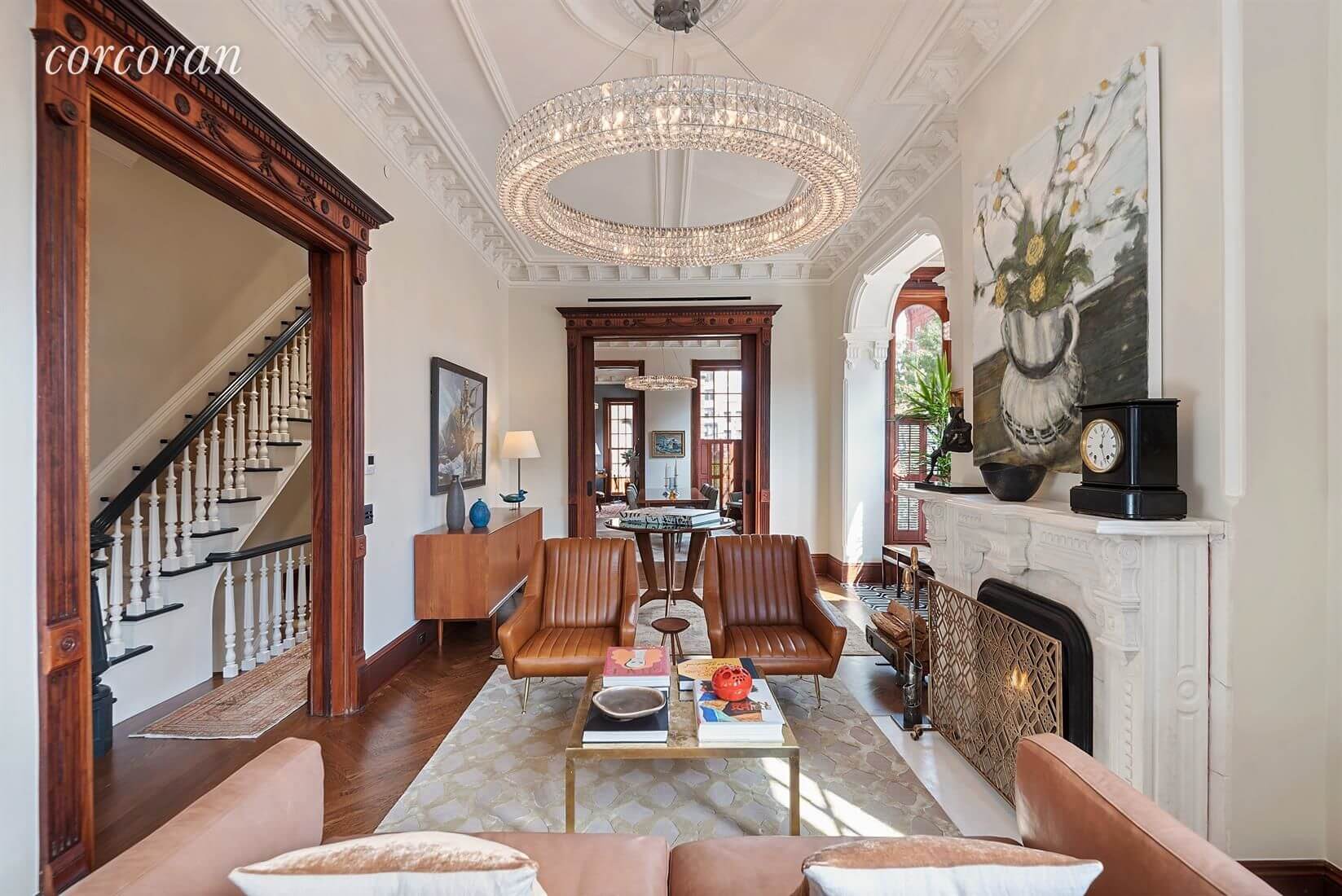 This handsome brick Italianate corner townhouse has all the things, so to speak, and it did even in 1871. "All the improvements…all in perfect order…fifteen minutes by three lines of cars to all the ferries," a period listing proclaimed. It's no less the case today with all the accouterments added in a recent renovation, doubling the price since a 2013 estate sale.
We could go on for quite a while about the historic details and contemporary updates: among the more special, a parlor-level oriel projecting over the side facade with arched windows and wood shutters, stained glass transoms in the vestibule that recall Louis Comfort Tiffany colors, bracketed coffered ceilings, walnut doors surrounded by fluted trim, with corner blocks and garlands over the pocket doors. The mantels are white marble with Italianate arches, and the home has six working fireplaces.
The rehab added some extravagant features: an immaculate cellar/wine storage room in the refinished basement with exposed beams, blond wood touches and grand arched apertures. The outdoor spaces are beautifully landscaped, both the backyard and a roof terrace on the third floor, located on top of the rear extension, which is decked in Brazilian Ipe wood. It's accessed from doors from the master bedroom through a wet bar in the hall. The garden level of the extension has a library with built-in shelves and a modern marble mantel; below that, an informal breakfast area on the garden-level has exposed beams and a built-in bench and tabletop of specially cut and cured wood.
The bathrooms have sleek Italian-style high-design vanities, with a soaking tub in the master suite and a glass shower on the fourth floor. The kitchen takes up nearly half of the garden level. Walls and floors are decked in bleached and silver-stained blond wood, and the grey-tinted cabinets are integrated with the appliances. A retro-rolling island stands in the middle, and shelves for cookbooks are built into the back of the breakfast nook.
---
Save this listing on Brownstoner Real Estate to get price, availability and open house updates as they happen >>
---
While 471 State Street is about a block from the historic district, there is also a controversial 840-foot-tall development under construction across the street. It won't obstruct the terrace view of the church shown in the listing, however.
The building last sold in 2013 for $2.755 million. Now the offering price is $6.195 million, in a listing from Gloria Weber at Corcoran. Will it get ask?
[Listing: 471 State Street | Broker: Corcoran] GMAP




















[Photos via The Corcoran Group]
Related Stories
Email tips@brownstoner.com with further comments, questions or tips. Follow Brownstoner on Twitter and Instagram, and like us on Facebook.