Work has started on the five-story, 28-unit apartment building going up at 196 Macon on a leafy block of brownstones in Bed Stuy. The developers are H Holding Group, which is also building four neo-traditional townhouses at 449-453 Degraw Street in Cobble Hill. This build is scheduled to be completed in June 2014. It's not clear if the units will be rentals or condos. Although the massing of the building above is obviously contemporary, and the building contains a parking garage, ornamental details nod to surrounding brownstones and include Neo Grec-style window surrounds, windows at street level, quoins and 19th century-style cornices. The property is the back half of a double lot on which sits a landmarked 1863 mansion; the whole thing was until recently owned by the mysterious United Order of Tents, a secret organization for African-American women. The Order of Tents appears to have divided the lot in two for tax purposes in 2011, and last year sold the vacant lot known as 200 Macon Street to Mgsh Properties Inc., which has the same address as the H Holding Group, for $760,000. Presumably, the Order of Tents still owns 87 Macdonough, despite the fact that PropertyShark lists all of the addresses as one property owned by Mgsh Properties.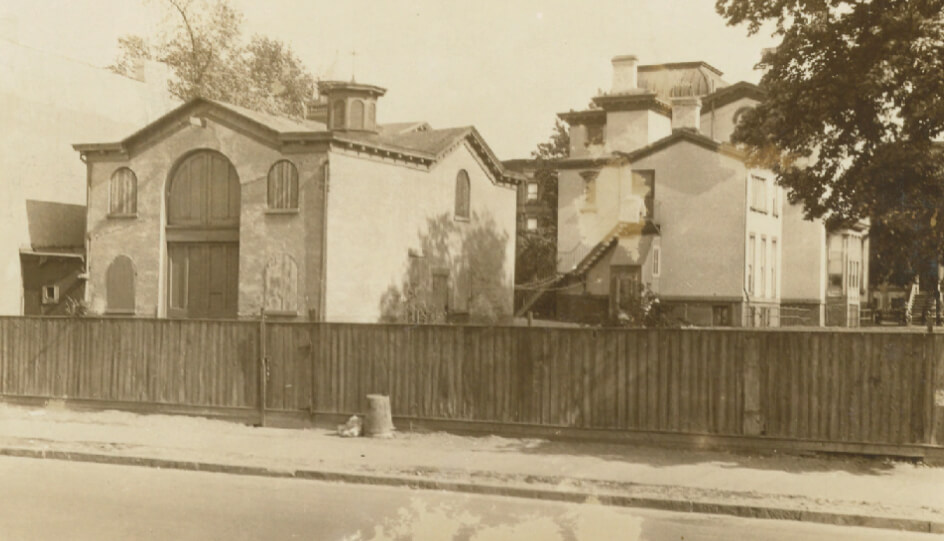 Read Part 1 and Part 3 of this story.
James McMahon was a wealthy and influential man about Brooklyn. He initially made his fortune as a shipping merchant, transporting goods along the railways between Boston and Baltimore, but by the 1890's, had become a successful bank president, presiding over Emigrant Industrial Savings Bank, the largest and most successful savings bank in New York City. He lived in a large free-standing, 1863, Italianate/French Second Empire brick mansion on MacDonough Street, one of the premiere streets in Stuyvesant Heights. This impressive house sat on an acre of lawn, and had a carriage house that opened up onto Macon Street. He lived there with his wife and seven children: Charles, James Jr. Mary Louise, Rosemary, Joseph, Henry, and Francis. He was extremely active in the Catholic Church, and was one of the wealthy Irish-American donors who built Our Lady of Victory Church, only a block from his house. But all was not well in this family.
McMahon's second son, James Jr. was the spoiled son, it seems. His elder brother Charles was a successful attorney at Emigrant. One of his sisters, Mary Louise, had just renounced the family fortune and become a nun. But James had never been able to find himself. He was slight of build, given to nervous prostration, and had ailments. He wasn't able to finish college at Georgetown, and would travel around before coming back home to Brooklyn. Everyone said he was very intelligent and had a shrewd business mind, but James was never able to make any of the business ventures his father bankrolled work. He took to just hanging out at the racetrack and at his club and around Manhattan with his friends, known by all of them as a great guy who was free with his money. His latest venture was the real estate business, with brother Charles, at an office on Montague Street, which apparently was actually a success.
On April 20, 1891, James was found dead in his room at the prestigious Manhattan Club, by all accounts a suicide by opiate overdose. He had not seemed despondent, yet it was obvious from evidence that he had fraudulently bought the drugs himself, with forged prescriptions. He was seen buying the drugs, handing in script signed by a "Dr. McMahon". In the end, probably due to family influence, his death was judged to be accidental, enabling him to have a funeral at Our Lady of Victory, and be buried in hallowed ground.
The death of a child changes a parent, and the loss of a favorite son surely affected James and Katherine McMahon. In 1895, Katherine died of heart failure. She had been a quiet and tireless charitable woman and devout church goer. Not only had she and her husband contributed heavily to the building of Our Lady of Victory, she had personally donated the large marble altar to the church. She also was an active participant in the parish's charitable programs for the poor. Her funeral was also at her beloved Our Lady of Victory. A year later, in 1896, at the age of 64, James McMahon got married again, this time to Rose Devereaux. Then the family drama continued.
In 1899, James' son Henry filed suit against his father in Brooklyn Supreme Court, alleging that his father was defrauding him and his siblings of their inheritance, specifically the house at 87 McDonough Street. Apparently, the property had always been in first wife and mother, Katherine McMahon's name, and when she died, without a will, the house went to the children; with husband James having rights to use the estate until his death. Soon after Katherine's death, Dad had secured from the children a conveyance, for $1 and his love and affection, which would leave the property in his name, with it going back to them at his death. But then he complicated the issue by remarrying, thereby encumbering the property with his dower. On top of that, the suit alleged that Dad, using his conveyance, had mortgaged the property in 1898, to the tune of $20K, with another $5K taken out later that same year, and was living well on their dime. Henry named Rose in the suit, as well as the Brooklyn Savings Bank, which held the mortgage.
When the case went to trial, covered, of course, by the Eagle, James McMahon denied that he had ever made such an agreement with his children. He testified that his children, specifically Henry, had racked up some debts of their own, and the mortgage money had taken care of that debt, and that all of the children were aware that the repayment of those debts was coming out of their share of the estate. When questioned, Henry, who also had some ne'er do well qualities of his own, admitted that he owed several significant debts, one of which his father had paid, and that he knew that some of the mortgage money had paid the debt. After much testimony, James McMahon was exonerated, and son Henry highly embarrassed, and no doubt, not welcome at home. 87 MacDonough must have been a chilly place for a while to come.
It was to get even chillier. In 1909, Rose died, and her sister, Mary Helena Devereaux, moved into the house to be the housekeeper to 78 year old James McMahon. A year later, she became wife number three. She was fifty. They did not get married at Our Lady of Victory, but at another chapel elsewhere in Brooklyn. They honeymooned in Atlantic City. Almost four years later, 83 year old James McMahon died, on December 10, 1913. His daughter, Mary Louise, was now the Mother Superior of the Monastery of Corpus Christi, in Hunts Point, NY. His other daughter, Rosemary, was still at 87 MacDonough, and son, Joseph, lived in Park Slope. They shared in his estate, along with separate behests to Mary Helena, Our Lady of Victory, another church in Long Island, and three grandchildren. His other surviving son, Francis, along with his wife Edith and their son, Easton, were totally disinherited from the half million dollar estate. Apparently the old man had a codicil inserted in the will that disinherited Francis if he married outside of the Catholic faith, which he had. This codicil wiped out the $20K trust held for the son, as well as a fund James had established for his grandson and the child's mother, a codicil he had only put in place two years earlier.
Ironically, during his long lifetime, James McMahon was known as the most important layman in the Catholic Church in Brooklyn, a man who donated thousands of dollars to his parish, and hours of time to its causes and programs. He met with archbishops and cardinals, and dined with the princes of the Church. He was a kingmaker in Democratic politics, and hobnobbed with some of the city's most important people. He had two very successful careers,three wives, a large family, and grandchildren. And yet, he died a bitter old man, content to cut off his son and family, and change their lives forever. He may have built the church on the corner, but it doesn't sound like he listened to its message of love and forgiveness.
Next: the large house on MacDonough Street survives the 20th century as a meeting place for ladies who dedicated their organization to good works and serving God in their own way. The Tent Ladies: next Walkabout.


(Photo:savebedfordstuyvesantblogspot.com)

(Photo:savebedfordstuyvesantblogspot.com)

Read Part 2 and Part 3 of this story.
One of Stuyvesant Height's most iconic houses has a tale to tell. It's a story of success, money, faith, family, tragedy and spite. Followed by a bit of inspiration, mystery, good deeds, and benign neglect. A lot for one property to hold, but this is some property. 87 MacDonough Street is one of Bedford Stuyvesant's jewels. In a neighborhood that doesn't have too many of its old freestanding villas and mansions left, this house remains one of the largest, and one of the best architectural examples of Brooklyn life when life in the suburbs meant a journey to Stuyvesant Heights.