Garden Design-Build Pros Groundworks Reveal Costs and Challenges of Creating a Backyard Eden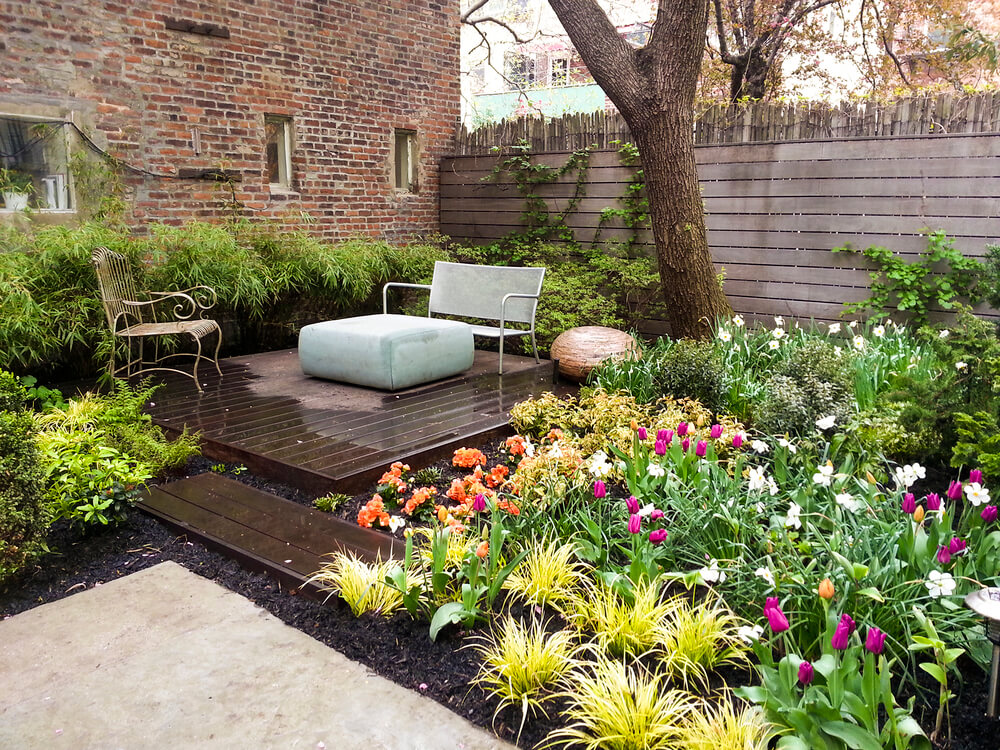 Tired of struggling to grow a patch of lawn in the shade of your next-door neighbor's pin oaks? Wondering how to fit a patio, play space, BBQ, dining area, vegetable garden and flower beds into a 20-foot-by-40-foot rectangle? Bummed about coming home from vacation to find your plantings looking dry and sad?
If any of that sounds familiar, you've probably realized that creating magazine-worthy garden style in an urban backyard is not as easy as going to a big-box nursery, buying plants that look pretty in the full flush of spring bloom, and sticking them in the (unimproved) soil.
Good garden design and construction is a multi-faceted process that can involve excavation, grading, drainage, masonry, fencing, irrigation, lighting and soil amendment — all before a single plant goes in. And they have to be the right plants, in the right places.
"People show us pictures from magazines and say 'I want my garden to look like this,'" says Alice S. Marcus Krieg of Groundworks, the Brooklyn-based garden design-build firm she founded in 2001 with Carmen DeVito, after the two women met while working side by side at the Horticultural Society of New York. Then they have to break the news: "That's southern California."
A dream of many Brooklyn homeowners is a lush green lawn. "Everybody wants a beautiful lawn," Krieg says. "Lawn is the most maintenance-intensive plant material of all. It needs full sun, it needs mowing every seven to 10 days, and it needs a lot of water and fertilizer."
Time to Get Realistic.
Groundworks has solutions to all these challenges, and a portfolio of stunning projects to prove it.
Here's how it works: In an initial meeting with prospective clients, the Groundworks team listens for "the essence of what clients want from their space, and how the space will be used." They present three options for a new garden layout, with estimated costs. The homeowners select the final design, a budget is established, an agreement signed, and installation begins.
Groundworks subcontracts out the masonry and carpentry and oversees installation; they do the soil work and planting themselves.
Once the garden is installed, Groundworks can provide ongoing maintenance or a monthly to-do list for the motivated homeowner.
What Price a Beautiful Garden?
Groundworks does front yards, terraces and rooftops, but "probably 65 percent" of their Brooklyn jobs are rear yards, Krieg says.
When you're talking row houses, that means everything from fencing and pavers to soil and plants has to be carted by hand through the house, whether coming in or going out. There may be dumpsters involved, along with delivery and labor, and that means expense — "more than people realize," Krieg says.
Structure is also costly. Fencing alone for a typical 20-foot-by-40-foot backyard — often the first thing Groundworks' clients want to tackle when they buy a property — starts at $5,000 to 7,000 for cedar stockade fencing, and can go as high as $20,000 for a horizontal slat fence of ipé (a Brazilian hardwood), which Krieg calls the "fence du jour."
The total job, including fencing, a patio or decking element, soil, plants, lighting and irrigation, could reach the mid five figures before you even get to flowers. "Our projects range up to $60,000 for a rear brownstone garden," Krieg says. Only about 10 percent of that figure is plant material.
Style on a Budget.
If the numbers sound daunting, take heart. There are ways to keep costs down.
The good news, says Krieg, is that "people often inherit old gardens that have not been maintained but that have good stuff that just needs to be pruned and edited and made a focal point — old lilacs, roses or viburnums. We assess what's there and what's worth keeping. Brooklyn gardens are like jewel boxes. In such a small area, every plant needs to be considered, and make sure it is going to pay the rent."
Plants that thrive year after year are far more economical than plants that wither and die. Groundworks' go-to plants for the dappled shade of a Brooklyn backyard include rhododendrons, pieris, climbing hydrangea, and low-growing ornamental grasses (carex and sedge) as ground cover. For floral spectacle, they suggest hardy, shade-tolerant camellia, which produces rose-like flowers in spring and fall.
"There are ways to get style on a budget," Krieg says, like "limbing up" or exposing the trunk of an existing tree that would be expensive to remove, and building a deck or patio around it. Another trick is adding a lip of ipé wood along the top of an inexpensive fence to give it a custom look.
Groundworks relies on faux turf for children's play surfaces. "We're installing it all over the place. It's a high-end product now, made with recycled material and permeable," with subtle coloration, Krieg says. "You'll have it for 15 years instead of struggling with lawn every year. It's $25 to $35 a square foot, but it pays off in the end."
Krieg and DeVito often feel like rescue workers, called in after homeowners have tried on their own, sometimes for years, to make their outdoor space attractive and functional, and found it trickier than it seems.
When you've had it with the struggle, call Alice and Carmen at Groundworks and let them bring their decades of knowledge and experience to bear on your own backyard.