Renters and Condo Owners Will Have Separate Pools at Kushner Mega-Project in Dumbo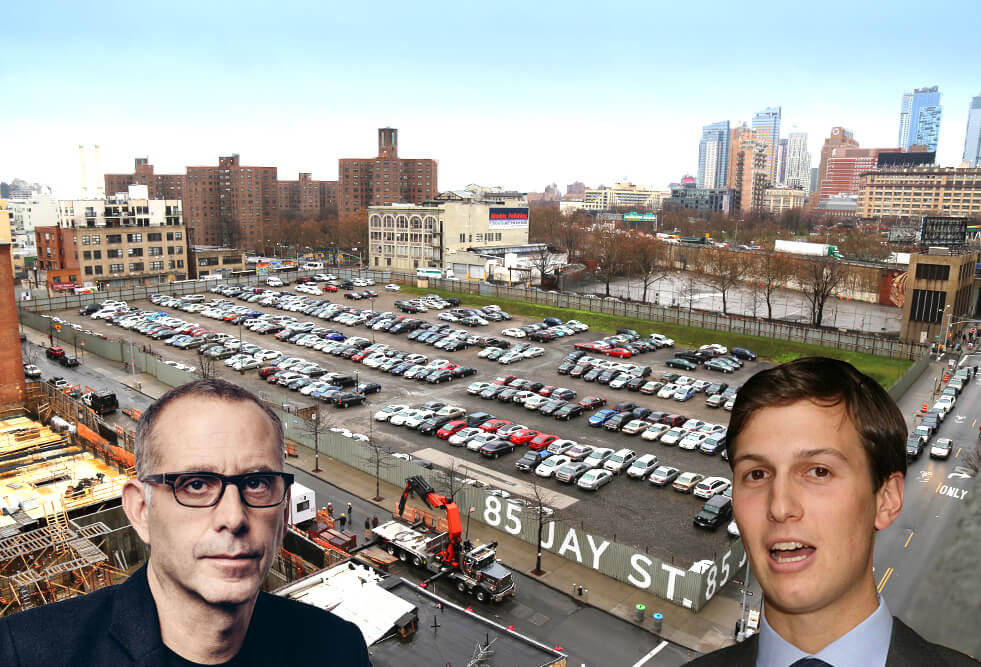 Presidential son-in-law Jared Kushner's Kushner Companies has filed a permit application with the city calling for a 21-story, 737-unit building at Dumbo's 85 Jay Street.
Unusually, the building will be part rental, part condo — and have two swimming pools, one set aside for owners and one for renters, filings reveal. No word yet on whether some or all of the rental units will be affordable.
It's a mega-project on a prominent spot in Dumbo, a massive former parking lot previously owned by the Jehovah's Witnesses that occupies a whole block between the York Street subway station and the water.
The application, which the Real Deal was the first to spot, calls for a building that will stand 250 feet. The building will have parking for 712 cars on a subterranean level, a community facility and retail space.
There will be a courtyard on the first floor, as well as 11 retail spots on the first floor and mezzanine.
Amenity areas on the eighth floor will include two pools, one with a sun deck for condo owners, game rooms, great rooms, screening rooms, outdoor lounges and grill areas.
Thanks to an upzoning in 2004, the lot comes with 1.1 million buildable square feet. However, the proposal stops short of that — it calls for a total of 874,149 square feet. The development will cover 100 percent of the lot, according to the application.
This will divide into 812,978 square feet of residential space, 60,017 square feet of commercial space, and 1,154 of community space. The average apartment space per unit works out to be 1,103 square feet.
The building is being developed by Kushner Companies in conjunction with CIM Group and LIVWRK. It's being designed by Morris Adjmi Architects, best known for the Wythe Hotel. Other prominent Brooklyn projects include two mixed-used buildings in the former Puccio Marble yards in Williamsburg and The Williams on Williamsburg's South 5th Street.
The purchase price of the site was $345 million, making it one of the biggest Brooklyn deals of the 2016.
85 Jay Street doesn't currently look like much – it's an empty lot. But with a 135,000-square-foot footprint, it's simply massive in size and any development would be capable of utterly transforming Dumbo in a major way.
The proposed 21-story building will not be the tallest in the area, however. Across the street, J Condominium at 100 Jay Street stands 31 stories.
But it could potentially bring thousands of new residents to the area, as well as new shops along one of the neighborhood's main thoroughfares.
Like a number of other properties in the vicinity, 85 Jay Street was formerly owned by the Jehovah's Witnesses.
Kushner and various partners own quite a few Brooklyn properties, all of them acquired recently — and many are former Jehovah's Witnesses properties.
Kushner and partners RFR Holding and LIVWRK made headlines in 2013 for their acquisition of five former Jehovah's Witnesses office buildings for $375 million, that year's biggest deal in New York City. They've converted it into a modern office and retail complex called Dumbo Heights.
Kushner Companies, CIM Group and LIVWRK snagged Watchtower headquarters at 25 Columbia Heights in Brooklyn Heights in 2016 for $340 million. In June, the partners, known as Columbia Heights Associates, revealed plans to convert the it and nearby buildings into a massive office complex.
Related Stories
Email tips@brownstoner.com with further comments, questions or tips. Follow Brownstoner on Twitter and Instagram, and like us on Facebook.