As Coronavirus Spreads, Construction Crews in Downtown Brooklyn Continue Working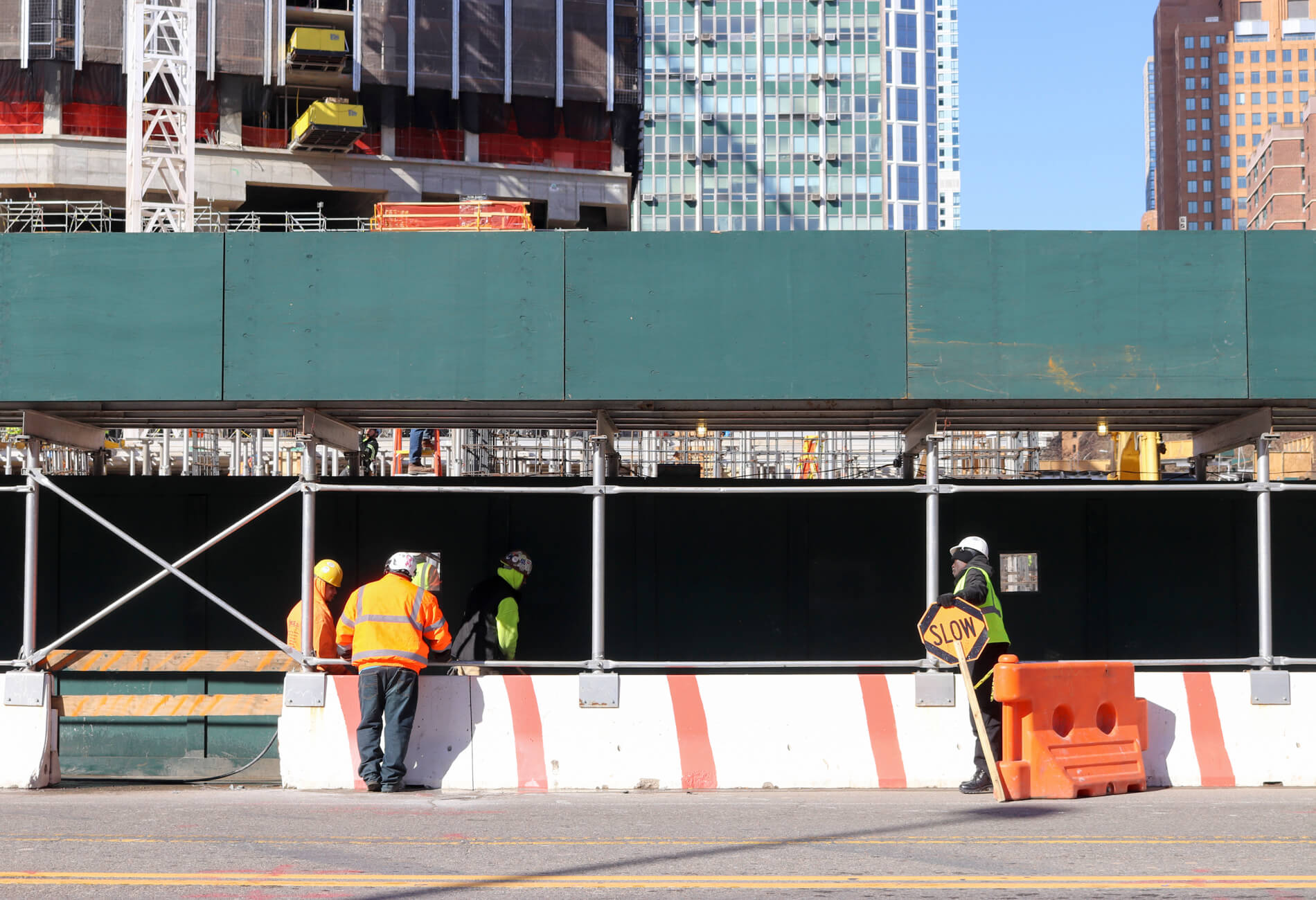 As many people begin to settle into homebound lives for the foreseeable future, one thing that has not slowed down in Brooklyn is construction.
This morning, a check on a few of the big construction sites around Downtown Brooklyn found that large crews — some wearing masks, some not — were continuing to work.
These sites include 196 Willoughby Street, where RXR Realty is building a 34-story residential rental tower with a mix of affordable and market-rate units made possible through the sale of air rights and located on what was an LIU athletic field; 9 Dekalb Avenue, which will eventually fuse Brooklyn's first supertall skyscraper to one of the borough's most iconic structures; and 420 Albee Square, where a 35-story building dedicated to office space is currently nearing completion.
A spokesperson for JDS Development, who is behind the project at 9 Dekalb Avenue, sent a statement to Brownstoner:
"Right now we are following New York City's guidelines, which have not called for a stoppage on construction activity. We're cognizant of the fact that many of the men and women working on construction sites throughout the city rely on that work on a week-to-week basis, and we're supporting them as best we can. The safety of our workers is of paramount importance to us, which is why we've increased sanitization stations and supplies and have instituted mandatory pre- and post-shift cleaning measures. We also have an on-site medic attending to all workers. We are looking to the City for guidance during this unprecedented time and will, of course, revisit our policies based on further advisories."
A construction worker left this comment on the NYC Health Department Twitter feed:
I STILL HAVE TO GO TO WORK AS A CONSTRUCTION WORKER! IF THERE IS NO MANDATE THAT THE CITY IS SHUTDOWN THEN JOB SITES WILL STILL BE OPEN. I STILL TAKE THE MTA. THE DOB MUST PUT A STOP WORK ORDER ON ALL JOBS

— StevePlum91 (@steveplum91) March 16, 2020
LIU and the developers for the other projects did not respond to a request for comment by publication. We will continue to update the story as new information becomes available.
Related Stories
Email tips@brownstoner.com with further comments, questions or tips. Follow Brownstoner on Twitter and Instagram, and like us on Facebook.