5th Avenue: Not Your Father's Park Slope
Over the past 20 years, Brooklyn has gone through a shocking transformation. Where once it was nearly impossible to get your Manhattan friends to come visit you in Brooklyn, now they're moving in next door. This is especially true of particular parts of the borough, places that started out rough around the edges, only to become the hottest destinations in the city. It's true of Williamsburg, of course. It's true of Smith Street. And it is certainly true of Park Slope's 5th Avenue.
Longtime Park Slopers remember a time when 5th Avenue's crime rates made it, for some, a "no-go zone." While 7th Avenue was the main street for young families, 5th Avenue had trouble attracting businesses other than bodegas, 99-cent stores, hardware stores, and dive bars. Now, after seismic changes in crime rates, real estate prices, and demographics, 5th avenue has become the new main street, attracting high-end boutiques, inventive restaurants, and…dive bars. We've come a long way, baby.
So take a walk with us down 5th Avenue! We hope you're ready to shop, eat, play, drink and eat some more.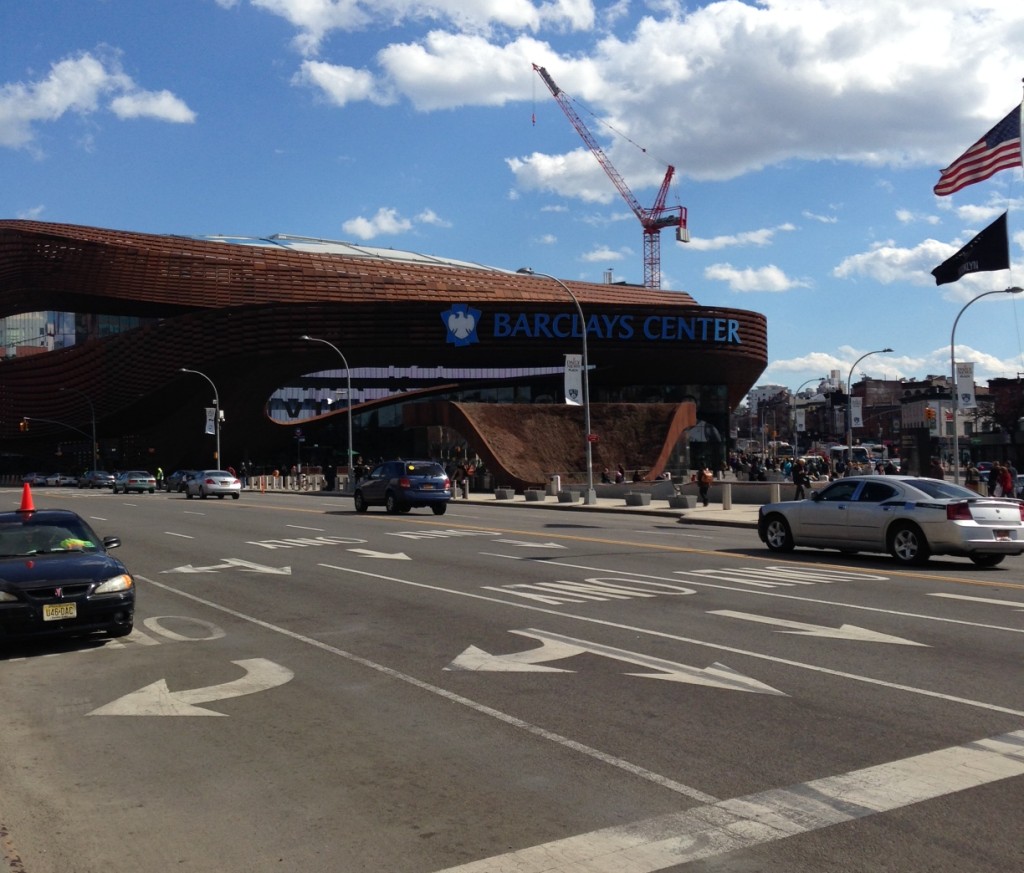 Flatbush to Sterling Place
If you stand at the intersection of 5th Avenue and Flatbush, looking south down 5th, you'll have Barclays Center at your back, Atlantic Terminal Mall to your right, and, to your left, Flatbush continuing on to Grand Army Plaza and Prospect Park.
Atlantic Terminal, just a few short blocks away, is one of the biggest transportation hubs in the city, connecting commuters–and Nets fans–to half a dozen subway lines and the Long Island Railroad. Though Brooklyn has welcomed its new basketball team with open arms, a few years ago this was one of the most controversial construction sites in a city that loves to argue about real estate development, with neighborhood activists decrying the use of eminent domain to clear the way for Barclays Center. In the end, developer Bruce Ratner won out, and the arena replaced such iconic (if dilapidated) buildings as the Underberg building, a food supply warehouse that Brooklyn novelist Jonathan Lethem wrote about in Fortress of Solitude. To hear the whole story, check out Battle for Brooklyn, a documentary about the conflict.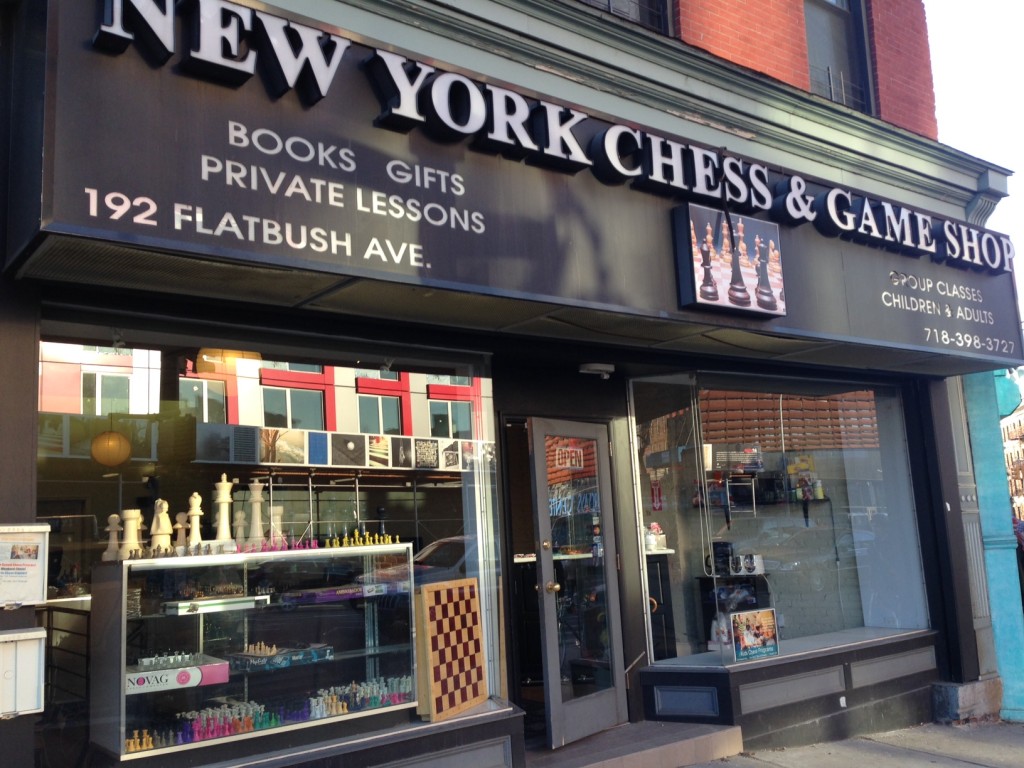 Crossing Flatbush takes you from Prospect Heights to Park Slope. The chess nerds among you (you know who you are) will be quick to notice the New York Chess and Game Shop on the corner of Flatbush and Dean. In addition to their dizzying inventory of chess paraphernalia, they offer lessons and host tournaments for players who like their game on a board instead of a court.
Before you go too far down 5th, it's worth taking a left onto Bergen Street to check out one of the cutest retail districts in all of Brooklyn. Bergen between 5th and Flatbush is lined with candy-colored storefronts that include Ride Brooklyn, a laid back local bike shop for renters and serious cyclists alike; Bump Brooklyn, where stylish moms-to-be stock up on staples; Babeland, where, well, you can work on the moves that will result in that bump; and Bark Hot Dogs, where the burgers and dogs are great and the cheddar fries are even better. Oh, and what goes better with a hot dog than a new comic book, purchased next door at Bergen Street Comics?
At the end of the block Pintchik Hardware holds court, the mecca of home improvement and one of the best hardware stores in Brooklyn. Thousands of Park Slopers have chosen the color of their living room walls in this store.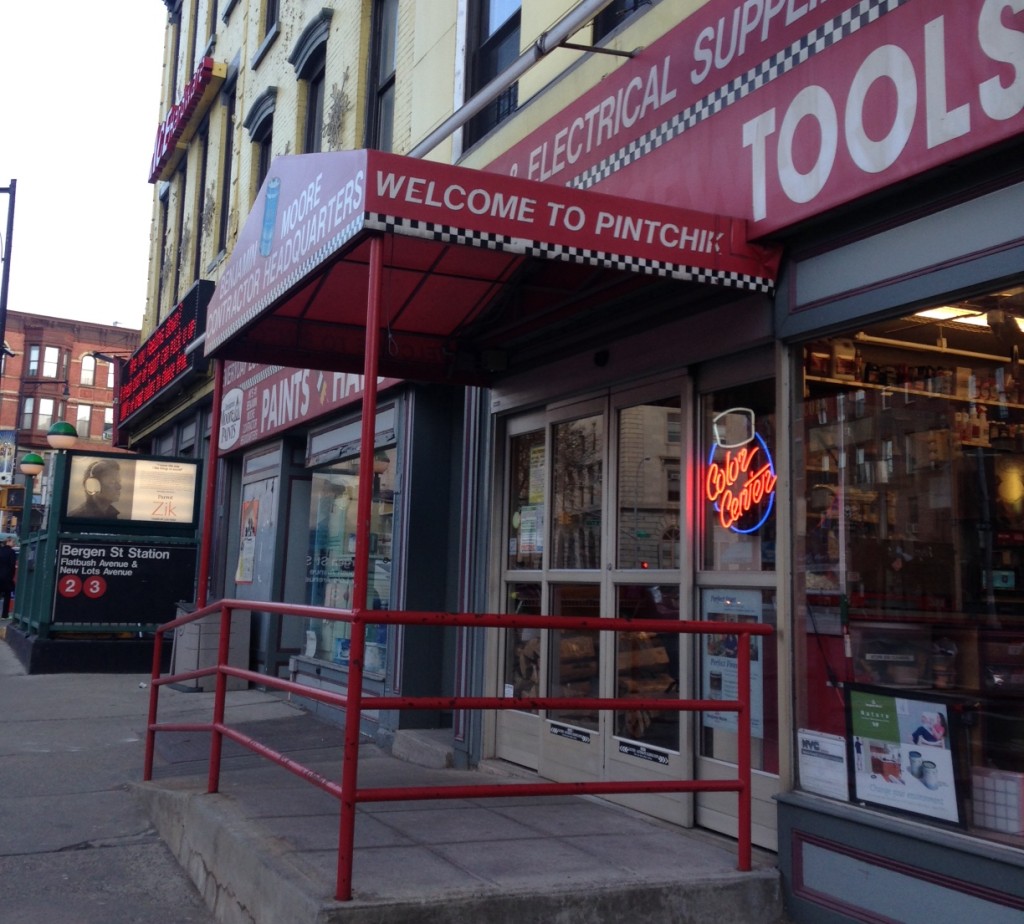 Getting hungry? So early in the walk? No problem. The next stretch of 5th, from Bergen to Baltic Street, boasts such great brunch spots as Peperoncino, Convivium Osteria, and Miriam.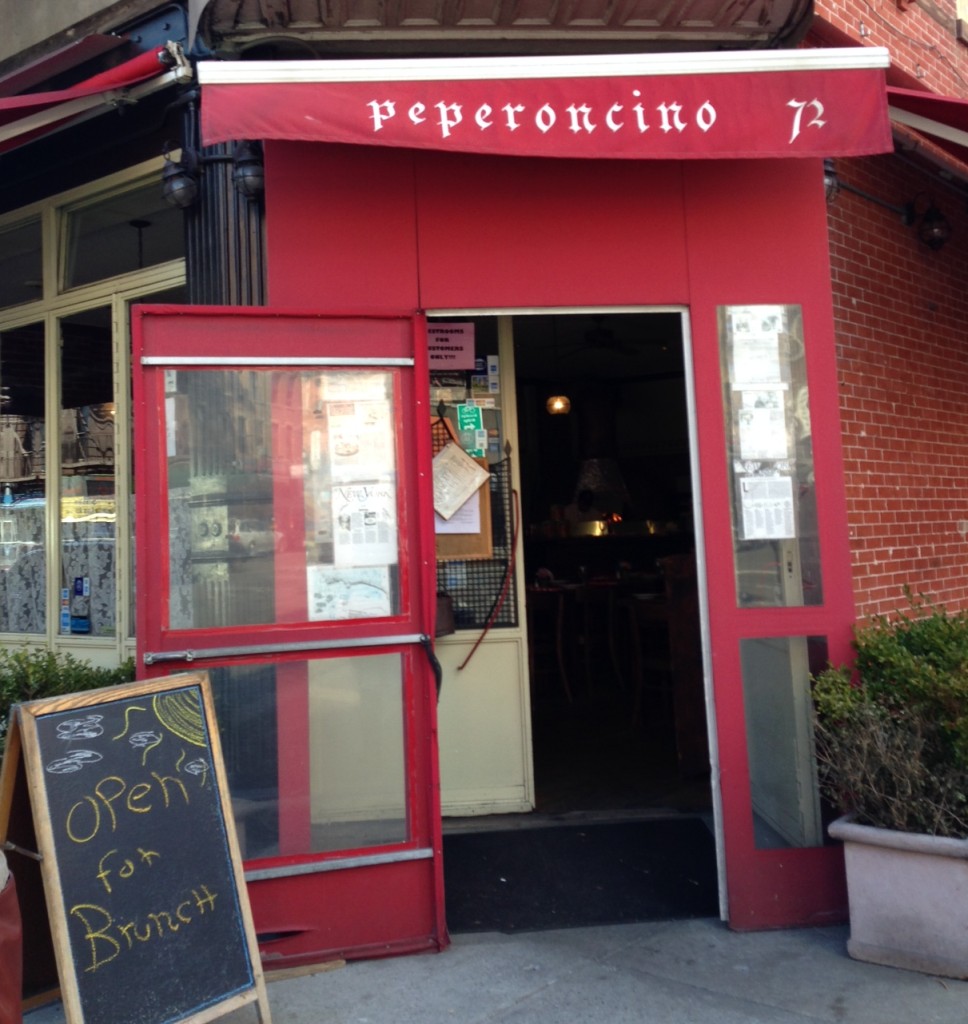 If you have to wait to get a seat, there are plenty of other things to do on this block: grab a pint at the tiny, beautifully designed bar Wolf & Deer, or do some vintage shopping at Beacon's Closet or Eleven Consignment Boutique. You can also pick up a bottle of wine to go at Sip, or stop in Blue Sky Bakery for a cup of coffee and one of the finest muffins in New York City. The selection changes daily, so our advice is to go for the weirdest-sounding combination they have. Zucchini raspberry chocolate chip, anyone?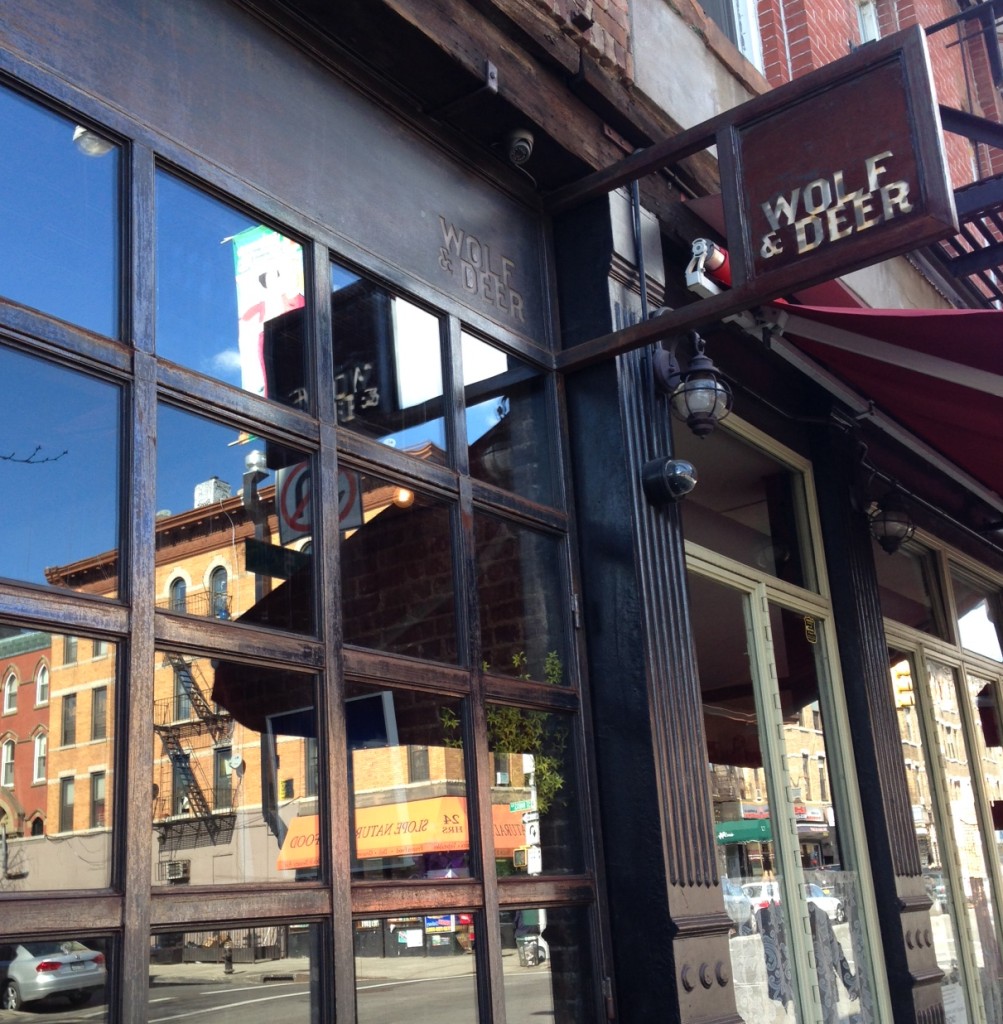 An almost holy spot for many Brooklynites, the original location of Gorilla Coffee sits at the corner of 5th and Park. The owners used to roast beans right here, but have since moved the roasting facilities to larger, more industrial digs to accommodate great demand. Stop in for a cup, but be warned: their dark roasts are not for the faint of heart.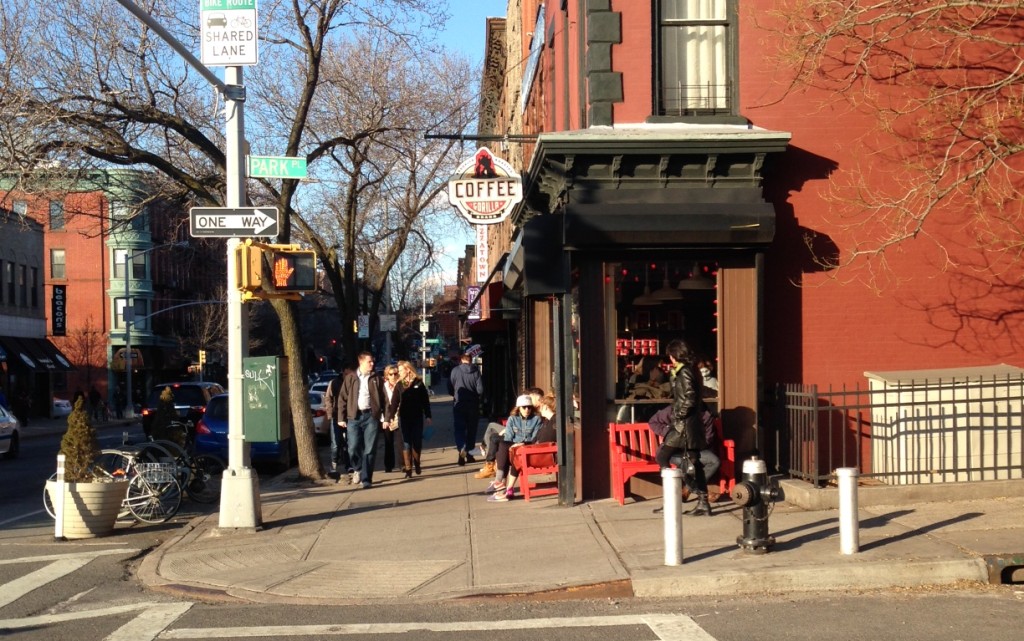 The cross streets that run from 5th Avenue up the slope to Prospect Park are lined with the picturesque brownstones that let you know you're really in Park Slope. That and and the crowds of pedestrians, many of them with strollers, ducking in and out of boutiques and charming eateries. If there's one store that seems out of place on this stretch of 5th Avenue, it's the suburban-style Key Foods — complete with a parking lot(!) — at 5th and Baltic. But even this unpretentious supermarket features a nod to its upscale clientele: they have an oddly wide array of British items, including plenty of digestive biscuits, Crunchie bars, Branston Pickles, PG Tips tea and, yes, spotted dick in a can.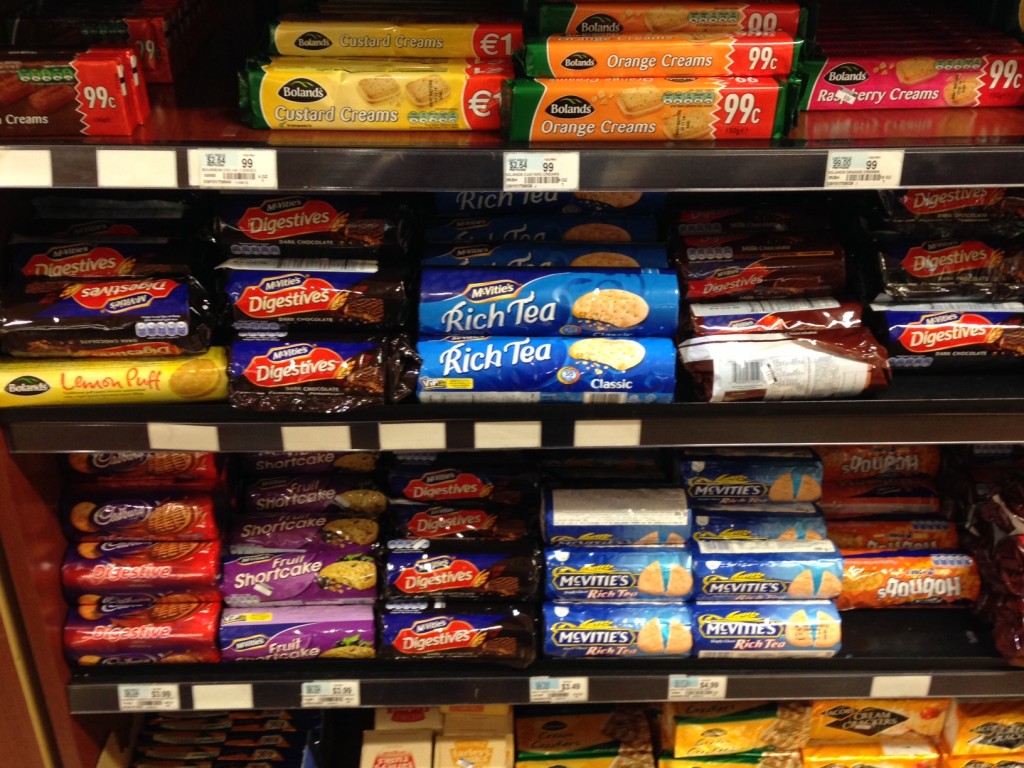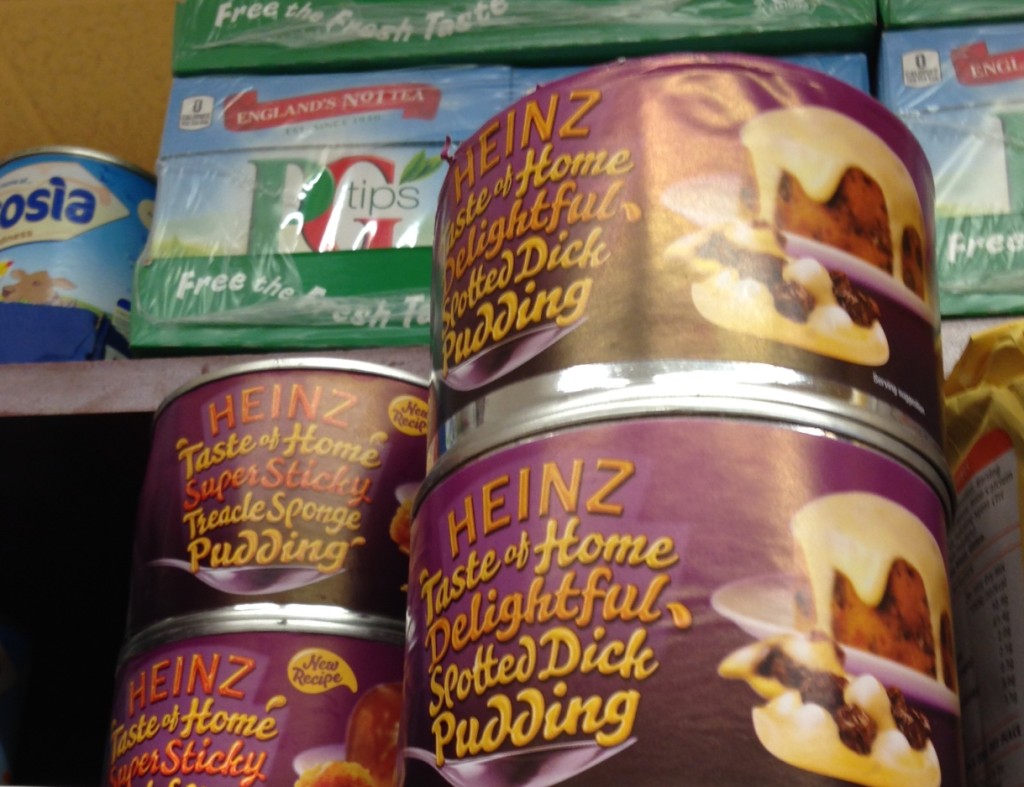 Fun fact about this area: in 2009, New York Times reporter Andy Newman walked around his own block 75.4 times  — the block bounded by Baltic Street, Warren Street, 4th Avenue, and 5th Avenue — to approximate walking the New York City Marathon without leaving his neighborhood.

Sterling Place to 3rd Street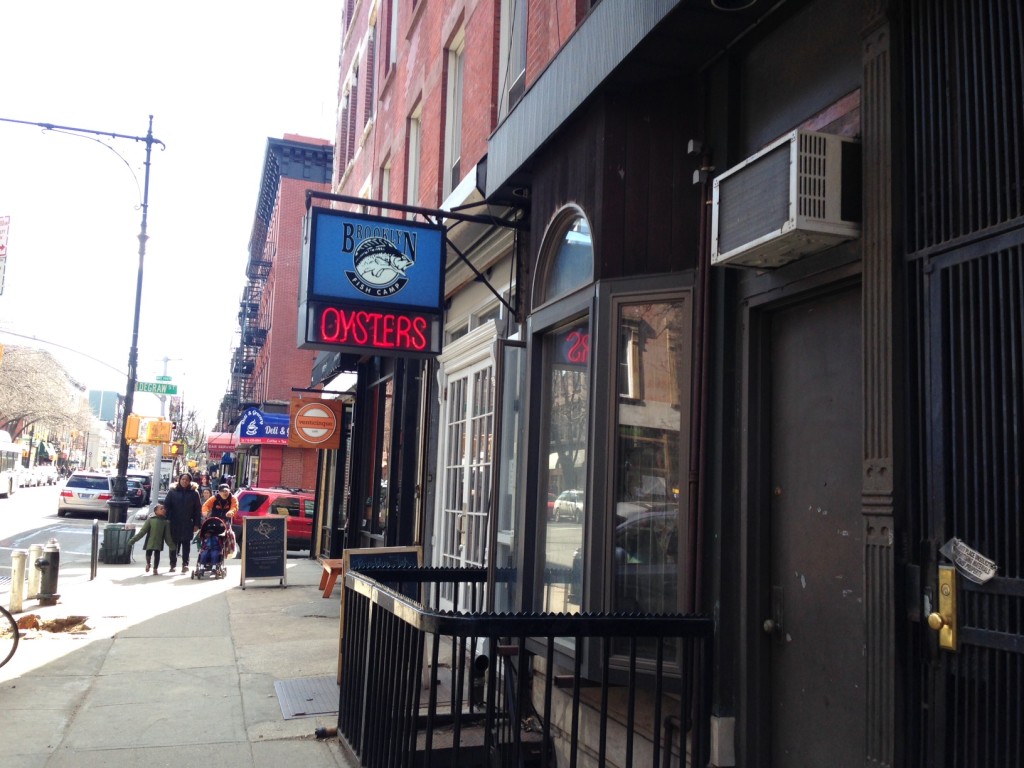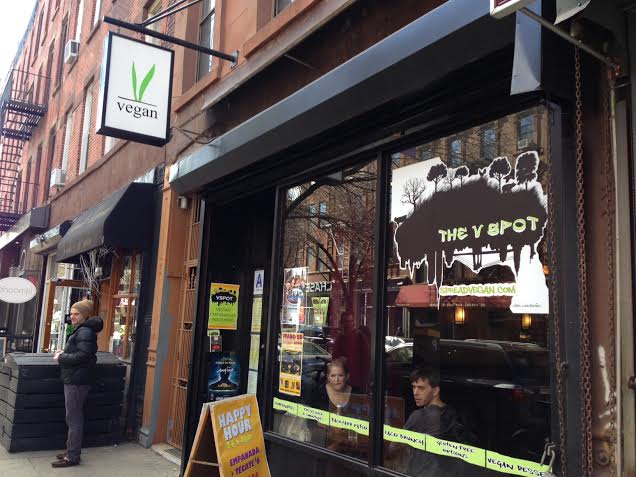 From Sterling Place all the way down to Washington Park at 3rd Street, this section of 5th Avenue is swimming with great places to eat and drink and excellent shopping.
Case in point: on the block between St. John's Place and Degraw Street you'll find fine vegan fare at The V Spot, and the freshest seafood just down the block at Brooklyn Fish Camp, which also has a lovely backyard for the warmer months. Even more relaxing than a leisurely dinner en plain air: the Indonesian-themed D'Mai Urban Spa, one of the most relaxing spots you'll find anywhere in Brooklyn.
To live in Brooklyn is to have a favorite car service — it's a matter of personal choice and geography. For lots of Slopers, it's Arecibo, featured in this New York Magazine article on what it takes to be a car service dispatcher. Arecibo's headquarters is on 5th, between Lincoln Place and Sackett Street.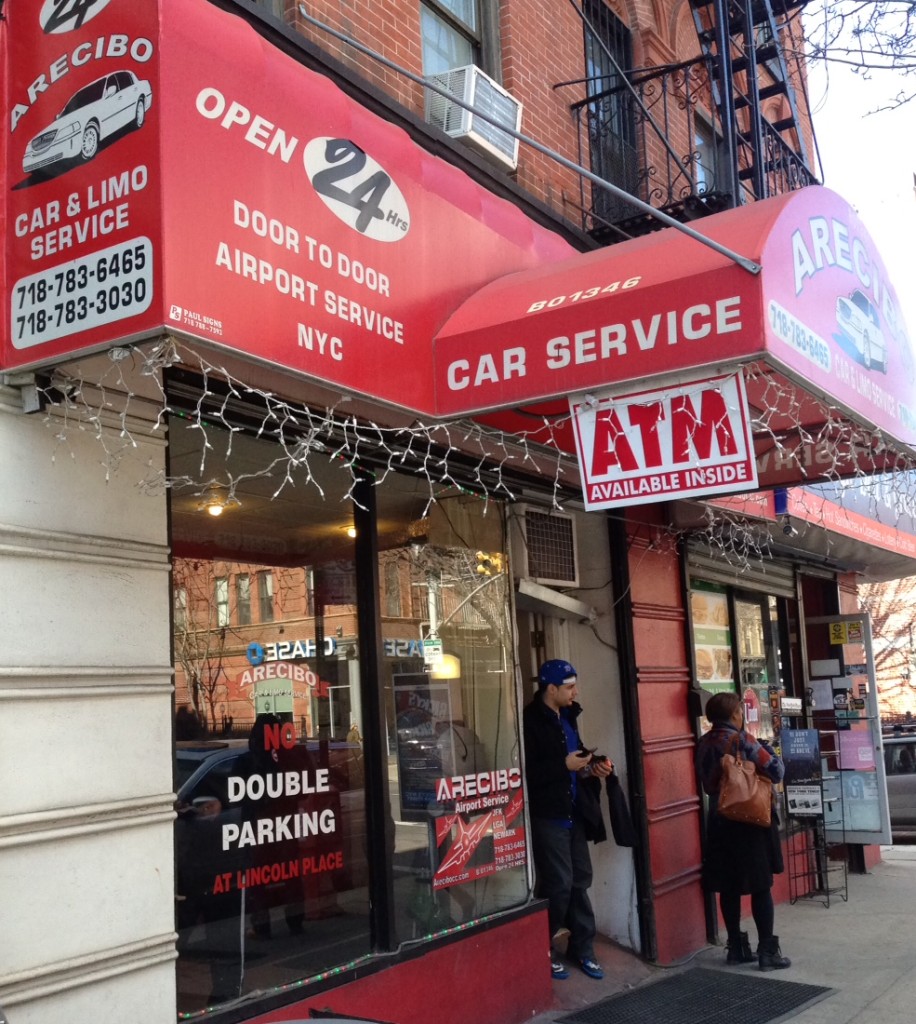 Speaking of things Indonesian, Hiho Batik down the block sells adorable and creative kids clothes as well as do-it-yourself batik kits. For those of you not well versed in this sort of waxing and dying, they also host batik workshops and classes.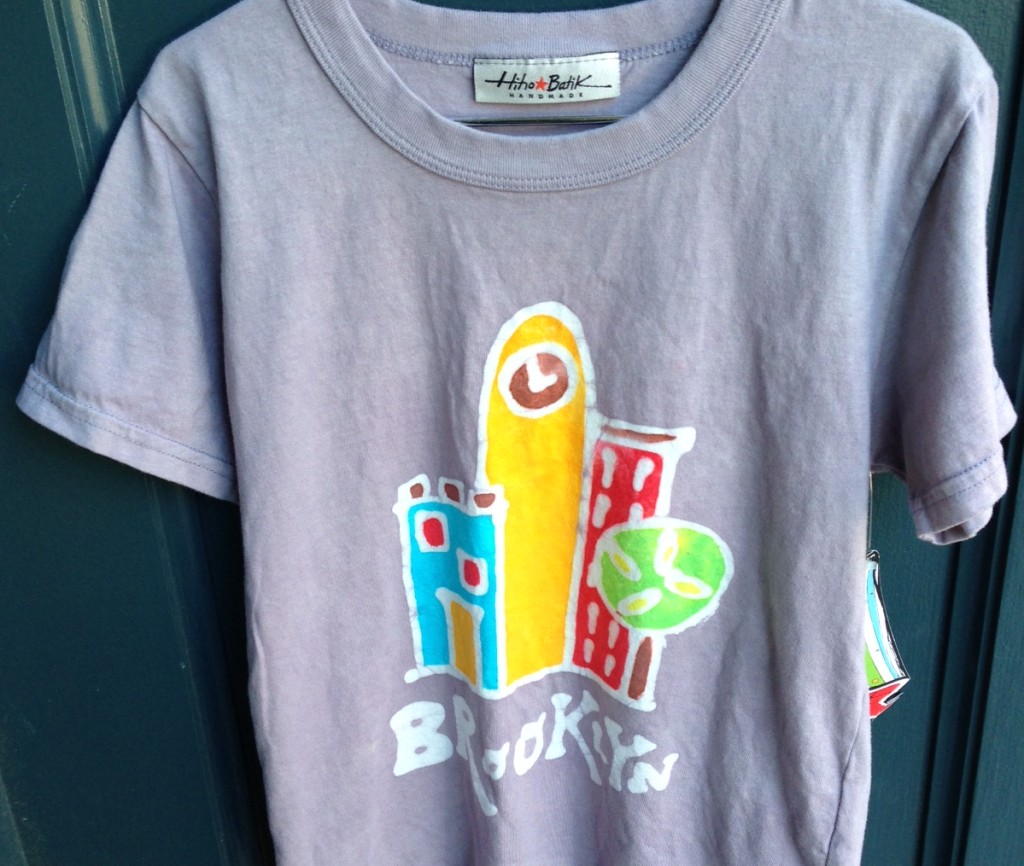 At the corner of 5th Avenue and Sackett Street, Cog & Pearl is one of the best places in Park Slope to pick out a gift, whether it's something to hang on the wall, tableware, or a journal. It's a great spot to get a piece of jewelry for a loved one whose tastes are eclectic or bohemian.
Cute jewelry isn't for everyone, though. For manlier fare, check out Fleisher's next door. The tiny shop sells grass-fed and organic meats, most of which are raised in New York State.
You're going to need something to go with all that meat. Across the street, Bierkraft specializes in craft-brewed beers from around the country and the world, and also stocks a stellar selection of cheeses, cured meats, and gourmet chocolate. You can pick up a sandwich to go, or stay and enjoy the backyard.
Moving from beer to wine, Red, White and Bubbly between Union and President is one of the biggest wine shops in the area. They stock an extensive selection of wines and spirits with a focus on local wines, including vintages from Brooklyn Wine Co. Down the street, Goldy & Mac is a clothing boutique started by two friends who wanted beautiful things without precious price tags.
As you cross President and head toward Carroll Street, you'll see Annie's Blue Ribbon General Store, an uber-Brooklyn-y store full of quirky gift ideas, gardening supplies, green cleaning supplies, stationery, wonderful smelling soaps and candles, and the largest collection of Brooklyn-themed tote bags you're likely to find anywhere. Oh, and did we forget to mention the large jars of candy?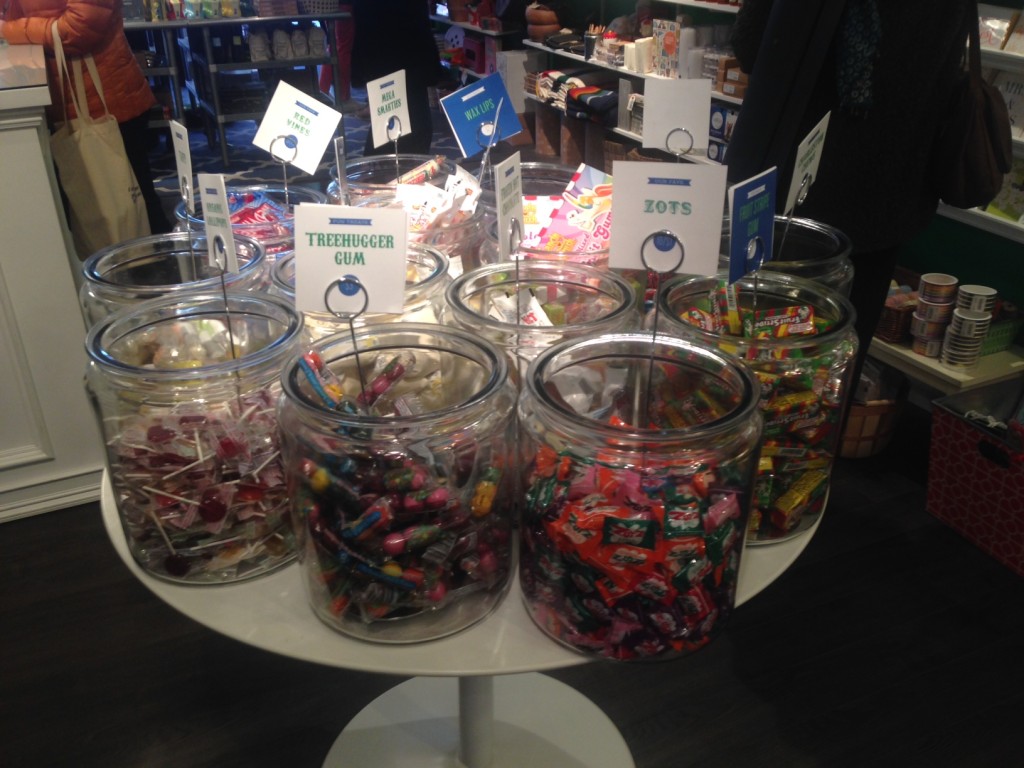 Al di là Trattoria sits on the corner of 5th and Carroll — don't be fooled by its unassuming exterior, this is one of the gems of Brooklyn's restaurant scene. It opened way back in 1998, before 5th Avenue was 5th Avenue, by husband-and-wife team Emiliano Coppa and Anna Klinger. Klinger, the chef, cooks up some of the simplest, most elegant Italian food you'll find in New York, with feather-light gnocchi and an insanely good grilled chicken. (Yes, the chicken is a standout here.) Not to be missed.
There's a lot of Manhattan on the block between Carroll and Garfield Place. You'll find the newly opened Brooklyn version of Grand Central Oyster Bar, where you can get a dozen oysters on the half-shell, shop at their fresh seafood market, or order a pan roast. There's Beauty Bar where you can get a cheap, stiff drink (even if they don't offer manicures as they do at their East Village location). And there's Housing Works, one of the best places to donate your used clothing, furniture and appliances, knowing that your purchases go to support health care access, housing, and advocacy work for New Yorkers living with HIV and AIDS.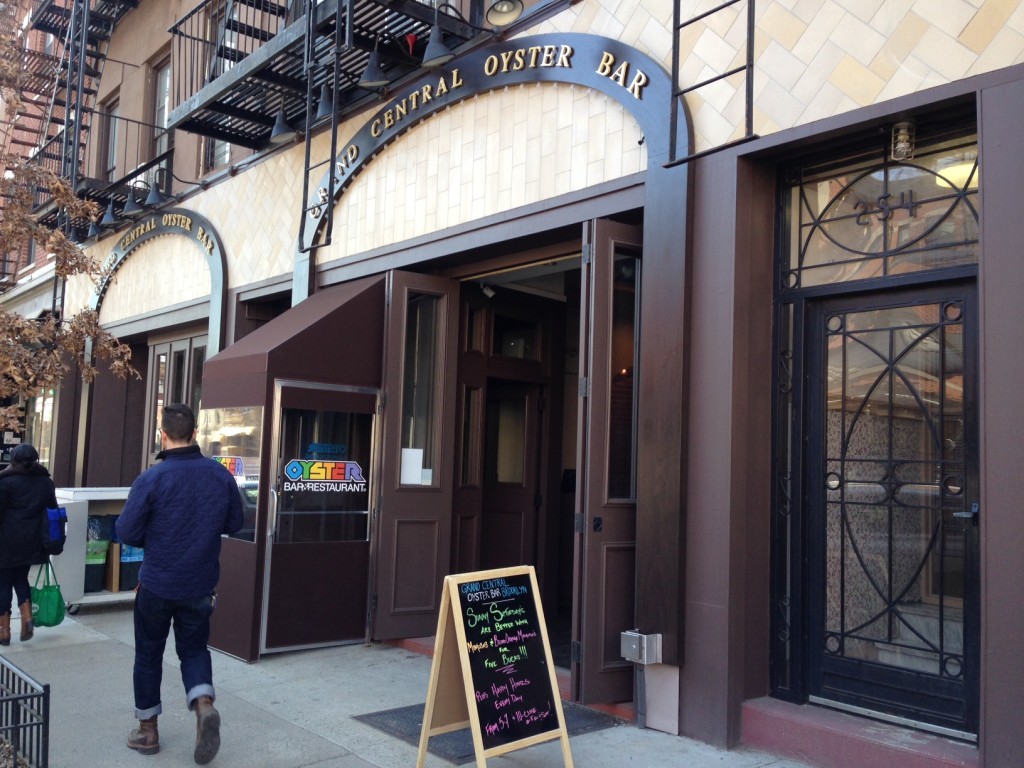 All these spots share the block with a Park Slope original: Pork Slope, the pig-forward eatery from chef Dale Talde. There you can order "The Motherporker," an insane sandwich consisting of cheddarwurst, griddled onions, fried egg, bacon, pickled jalapenos and mustard on marbled rye, and then wash it down with craft beer or whiskey. Why not?
And it just gets better: the block between Garfield Place and 1st Street has got to have one of the greatest concentrations of good eats — highbrow and lowbrow — in the entire city. Right in a row you have Naruto Ramen, Bonnie's Grill, Blue Ribbon Brooklyn, Calexico and Terroir. Ramen, burgers, steaks, chops, sushi, burritos, "beef on weck," crack sauce, rolled quesadillas, wine, meatballs, charcuterie, cheese plates — all from some of the best restaurateurs in the city.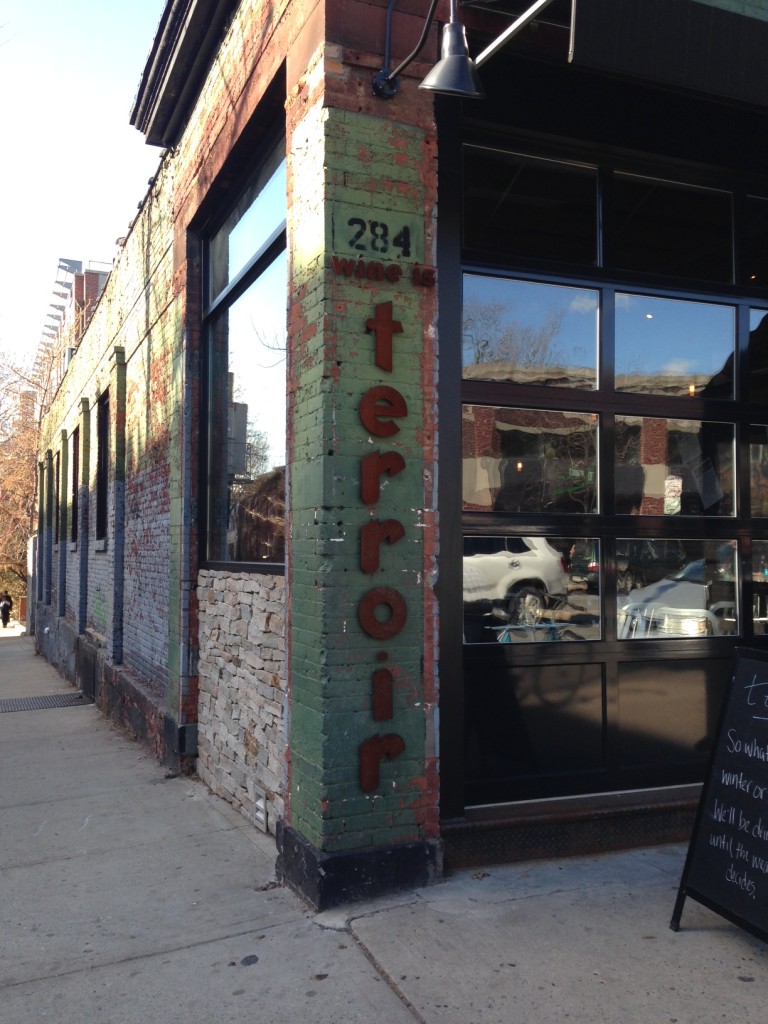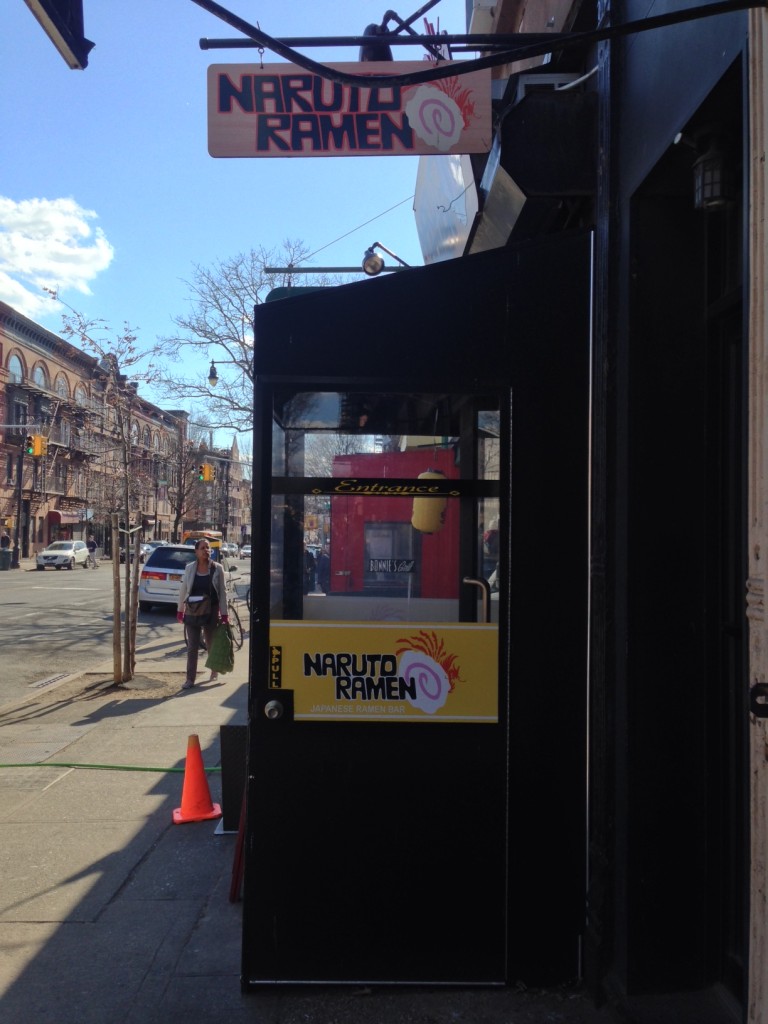 One of the best things about 5th Avenue is that all these new restaurants, bars and boutiques, that coexist with businesses that speak of a different time. In the case of The Stained Glass Store between 1st Street and 2nd Street, it's a reminder of just how many brownstones in the neighborhood have decorative elements like stained glass. (And that you desperately need stained glass superheroes like the ones pictured below in your apartment.)

Washington Park to Green-Wood Cemetery
Bound by 3rd Street, 5th Street, 4th Avenue, and 5th Avenue, Washington Park is home to handball and basketball courts, a baseball/soccer field, a killer playground, a farmer's market, a skate park, and the Old Stone House, a reconstructed Dutch farmhouse from the 1600s that is now a museum and event space. Washington Park was also home to Brooklyn's first baseball team, the Atlantics, who played here from 1879 to 1889. After a fire destroyed their park, they had to move…and renamed themselves the Dodgers. Not a bad place to start your kid playing tee ball.
Across the street is neighborhood stalwart, The Gate, a bar with ample streetside outdoor seating, perfect for sipping and people-watching in warmer weather. (Dog-watching, too. They are quite dog-friendly.)
Speaking of warmer days, how about some ice cream? L'Albero dei Gelati (the tree of ice creams?), a Slow Food-approved café and gelato shop offering flavors both classic and offbeat, like bell pepper sorbet and blue cheese gelato.
Past Washington Park you enter into South Slope, which has a lower quotient of cute boutiques, but makes up for it with great bars and lots of backyard options. Sea Witch, Quarterbar, Backyard, Buttermilk Bar, Dram Shop and, of course Freddy's — a beloved Prospect Heights institution that was displaced by Barclays Center, and relocated to the South Slope — all live along this stretch.
Brooklyn Superhero Supply Co., is author Dave Eggers' non-profit that, like comic book superheroes, has a secret identity. On the surface it's a storefront located on 5th and 5th, selling superhero supplies like secret identities and invisibility. Its real superpower, though, is helping kids develop their writing skills. In this store, what's behind the mask is even more exciting.
A few blocks down, Neergaard Pharmacy is a reminder of what drugstores were like before chains ruled the market. It's not just medicine, though. They stock pretty much every organic and natural skin care brand you can imagine, plus a huge selection of toys for kids and adult collectors alike.
Despite Park Slope's tony reputation, there's some great thrift shopping to be had along 5th. One example is Vice Versa on 5th and 15th Street, where you can find a denim jacket in any size for shade for under $20. Not far away Flirt is not only a shop full of beautiful, girly clothes, but the home of a sewing class center, called, adorably, Home Ec.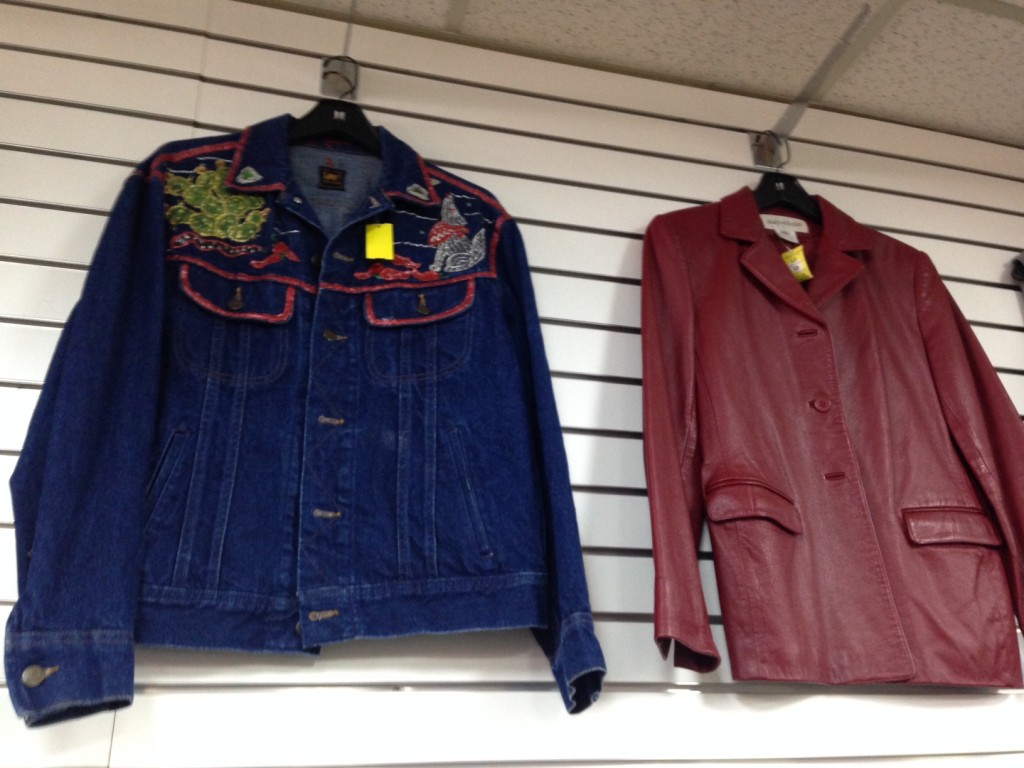 If you're trying on a bunch of clothes, you're going want to stay fit! Park Slope is home to plenty of gyms, but if you go in for a more extreme workout, there's a Crossfit box on 22nd and 5th and a Bikram hot yoga studio at 15th Street.
As South Slope slowly turns into Sunset Park, more Mexican businesses start to dot the avenue, including Girasol, or "sunflower," a bakery and 24-hour diner that serves fancy cakes, tacos and huaraches, or even a burger and fries. Around here, if you look down side streets to the west, you'll catch glimpses of the Statue of Liberty out in New York Harbor. Look straight down 5th, and the Verrazano-Narrows Bridge to Staten Island peeks out over buildings.
Slightly up the hill, on Prospect Avenue, stands The Grand Prospect Hall. If you've ever watched late night television in Brooklyn, you've seen the commercials, where owners Michael and Alice Halkias exclaim, "Grand Prospect Hall–we make your dreeeeams come true!" It may surprise you that the hall was built in 1892 by entrepreneur John Kolle and Ulrich J. Huberty, the architect behind such Prospect Park buildings as the Boathouse and Tennis House. After 100 years as the venue for operas, vaudeville acts, and even a boxing match, The Grand Prospect Hall was bought by the Halkiases in the early 1980s. Since then, it's become a fixture in the New York wedding scene, and one of the most elaborate catering halls money can rent. It's also home to the annual Golden Fest, a celebration of Balkan music that is one of New York's weirdest and most fun musical happenings each year.
At 24th Street, Green-Wood Cemetery begins and, fittingly enough, the Slope ends. In the late 1800s, well-to-do New Yorkers spent Sundays ambling through the grounds, bringing along picnics and libations. It's still a shockingly beautiful green space, and well worth a tour, or a quiet visit to the graves of luminaries like painter Jean-Michel Basquiat, newspaper editor Horace Greeley, and New York governor DeWitt Clinton.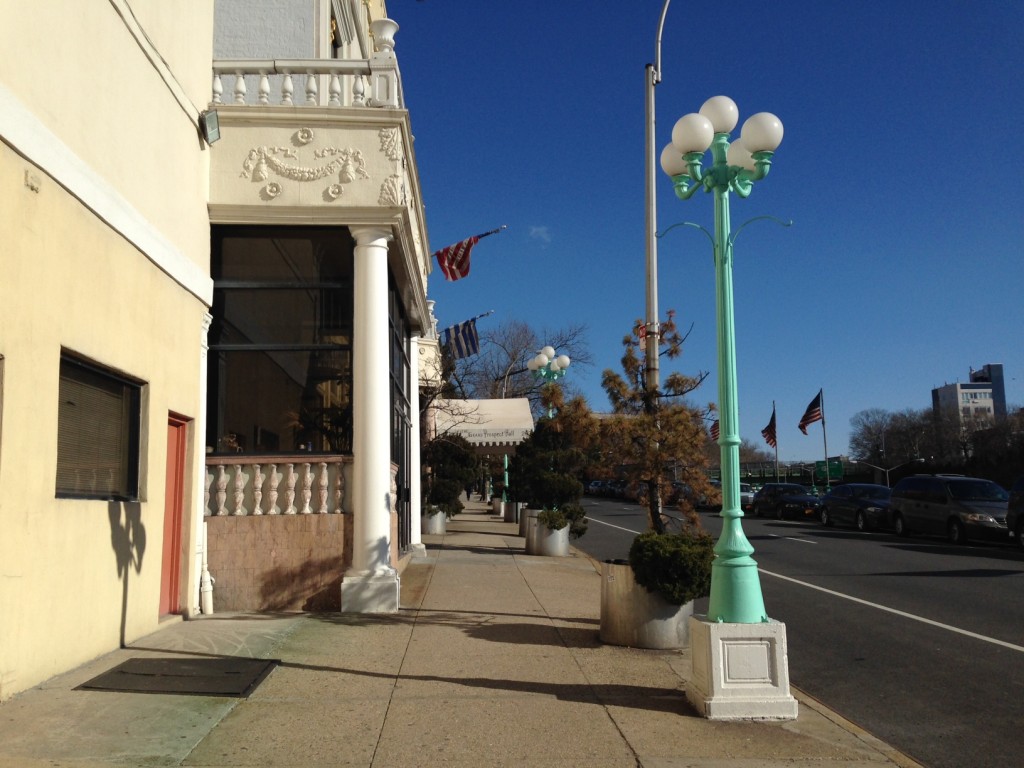 We hope you enjoyed your walk down 5th Avenue. After eating all that food, a long walk is the best thing for you!
For more local Brooklyn flavor, check out our guides to Atlantic Avenue, Court Street, Smith Street, and Bedford Avenue.